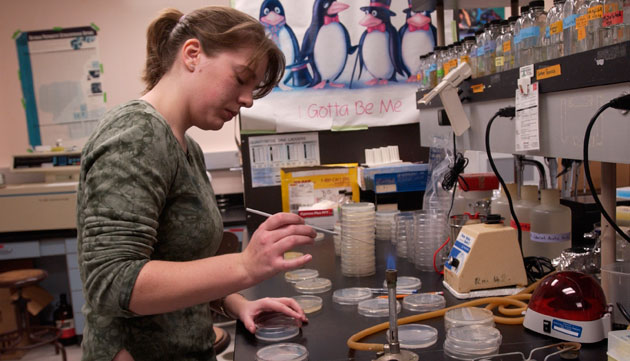 Overview
When your goal is to be a physician, dentist, optometrist, podiatrist or veterinarian, you already know that preparation will be long and demanding. You must meet course requirements, score well on an admissions test and master complex application procedures.
The open preprofessional programs at SIU Carbondale can help students achieve their goals. If you are eligible to enter a baccalaureate program here you can be a preprofessional student as long as you are in good standing with the University.
What We Offer
SIU teaches all the courses you need to qualify for a professional school; we also offer a wide selection of additional recommended courses.
Premedical, predental, prepodiatry and preveterinary students must take college algebra and trigonometry, one year of college level biology, one year each of general (inorganic) chemistry, organic chemistry and physics. We recommend additional courses in genetics, cellular biology, developmental biology, microbiology, anatomy, physiology, biochemistry, English, statistics and psychology. Preveterinary students usually add several courses in animal science. Preoptometry students must take the same curriculum plus calculus, microbiology, two psychology courses and statistics.
The diversity and comprehensiveness of SIU's academic offerings ensure that preprofessional students can take the courses they need to qualify for any professional program in health care.
The Preprofessional Program
Although you may enter SIU as a preprofessional student you cannot receive a degree in, for example, premedicine. Students must declare a specific major before they graduate. Most health preprofessional students choose a science major because of the number of overlapping course requirements. Professional schools express no preference for a particular undergraduate major so we encourage you to choose the one of greatest interest to you.
Students have entered medical and dental schools with such majors as philosophy, accounting and even theater! For all students in good standing there is freedom to change majors at any time (with exceptions for a few high demand programs) although changes may delay graduation. You must complete preprofessional courses in addition to major and University requirements for graduation.
The major you choose to combine with your preprofessional program should have its own independent value in case you change your mind or are not accepted into a health professional program. SIUC offers many majors to choose from, all of which are versatile and can lead to numerous other rewarding careers. The most popular majors are Biological Sciences, Physiology, Microbiology, Biochemistry Specialization in Chemistry and Zoology
(Please see Health Professions Student Handbook (pdf) for more information).
Support
SIU Professional Schools. SIU has a School of Medicine in Springfield (the freshman year is on the Carbondale campus) and a Dental School in Alton. Their presence benefits preprofessional students as some faculty are cross-appointed with SIUC science faculty. School of Medicine professors may even teach your upper level courses and encourage you to participate in research projects.
Health Professions Information Office. Make an appointment to meet with our Health Professions advisor, Liz Saunders. She will answer your questions, suggest the best courses to take to score well on difficult examinations such as the Medical College Admissions Test (MCAT) and the Dental Admissions Test (DAT), assist you in accumulating a personal preprofessional file and guide you through the entire application process. If you cannot decide which of several careers in health professions to choose, she has information that can help you.
Health Preprofessional Committee. All medical schools and many other professional programs prefer a summary letter of recommendation from an advisory committee. SIUC has a Health Preprofessional Committee consisting of ten faculty members. This committee will interview you in the spring or fall before you apply and evaluate you with respect to academic potential, personal attributes, motivation and time management skills. If you are a premedical or pre-dental  student who is not eventually interviewed by the Health Preprofessional Committee, an advisor will keep your individual letters in your confidential file until you request they be sent to a central application service.