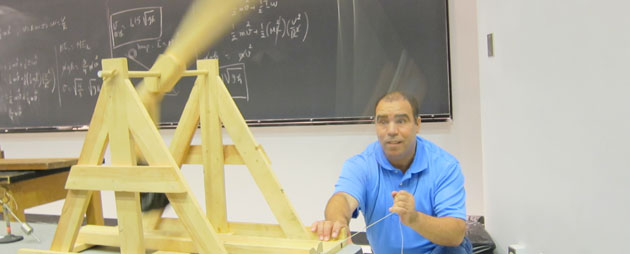 Masters Degrees
Further your research. Our master's degrees encourage students to explore, analyze and investigate in cutting-edge facilities with top-tier faculty.
Pursue a challenging graduate program that helps you gain specialized knowledge in any one of six majors. Each of these majors present a choice of several notable concentrations. Programs can also be customized to meet the specific career goals and objectives of each student.  Our research-intensive program is interdisciplinary by design and combines a breadth of dynamic course offerings with exciting hands-on experience. Follow the link above to the school's undergraduate page.
The Chemistry graduate programs can be generally classified into four areas of emphasis: Analytical, Biochemistry, Materials, Organic, and Physical though there is considerable overlap of faculty research interests among these areas.  Our research work covers many areas of experimental and theoretical chemistry, spanning the traditional areas of chemistry. Many of our faculty have research programs with foci on the interdisciplinary areas of materials and bio-related research.  Come see us for more details.
Our Forestry master's degree prepares graduates to assume leadership and managerial roles. Our graduate program combines intense study of current literature and research methodologies, with personalized, guided field work and individual research. Areas of interest include ecological restoration, fire science, forest resource management, human dimensions of natural resource management, hydrology and soil science, recreation ecology, watershed management, and wildlife conservation and habitat management.
The  Geography and Environmental Resources program can help you prepare for a career in water resource planning, rural land use planning, natural resource and environmental policy analysis, and environmental systems analysis and geographic information systems.
Southern Illinois and adjacent areas offer a wide variety of geological conditions ideal for individual study and research. Opportunities also exist for graduate student research all over the world.  Our graduate arts or science degree programs develop the student's competence in the basic fields of geology and provide for specialization dependent on student and faculty interest.
The Master of Science degree is offered through the Molecular Biology, Microbiology and Biochemistry graduate program (MBMB). With a diverse and experienced faculty spanning the Carbondale and Springfield campuses, the MBMB program offers a wide selection of course and research options to prepare you for a successful and rewarding career. Numerous career opportunities are available to the Master's degree recipient.
Physics offers graduate work leading to the Masters of Science in Physics degree. The program is two years in length with a thesis requirement.  SIUC Physics is a unique program in that it provides many research opportunities offering students a wide choice of specific areas of study. A low student to faculty ratio allows students to work closely with top notch faculty engaged in cutting edge research.
Plant Life Biology confers a Master of Science in Plant Biology to graduate students who complete a course of study designed specifically for the student by their advisory committee and a thesis research project. 
Zoology's Master of Science program emphasizes research training and advanced coursework in ecology and ecosystem studies, environmental toxicology, genetics, evolution, population biology, fisheries, aquaculture, and wildlife ecology and management.