College of Agricultural, Life, and Physical Sciences Advisement
 Call for information: 618-453-3080
Email: calpsadvisement@siu.edu
DO YOUR PART – KEEP YOUR DISTANCE – STAY SAFE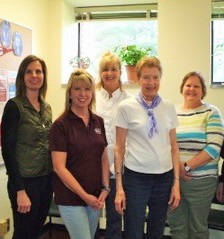 From left to right: Yvonne Gramenz, Jean McPherson, Liz Saunders.
Welcome to the Undergraduate Science Advisement office! We are located in the Agriculture Building, room 217A. Our phone number is 618-453-3080.
Incoming freshmen and incoming transfer students: Call our office to schedule an over the phone appointment with your advisor. Advisement for semester planning and 4-year planning is by appointment only. Appointments should be made at least 48 hours in advance. Posted over the phone, "walk-in" hours are for brief questions or schedule changes, not full advisement.
New Student Orientation: Please call Undergraduate Science Advisement at 618-536-5538 to schedule an appointment after you have scheduled your NSO session date.
Undergraduate Advisors
Our undergraduate advisors specialize in the College of Agricultural, Life and Physical Sciences programs listed below:
CALPS Undergraduate Advisors

| | | |
| --- | --- | --- |
| Advisor | Email | Department |
| Jean McPherson | jeanmcp@siu.edu | Fermentation (FERM), Geology (GEOL), Physiology (PHSL), Undecided/Unclassified |
| Yvonne Gramenz | yvonne12@siu.edu | Microbiology (MICR), Zoology (ZOOL) |
| Liz Saunders | lsaunders@siu.edu | Health Professions—Call 618-536-2147 |
| Alesia Beanland | alesia@siu.edu | Biological Science (BIOS), Plant Biology (PLB) |
| Vacant | | Office Manager |
Faculty Advisement
Eleven programs within the College of Agriculture, Life and Physical Sciences require their students to meet with a faculty advisor before registering each semester. Meet with the department faculty advisor first. Then you can see your advisor to complete the advisement/registration process. Faculty advisors are available to talk with you regarding your major and career plans when you need assistance. It is suggested that you make an appointment with your faculty advisor every semester until graduation. Science program offices and phone numbers:
Biological Sciences - LSII 351 – 536-2314
Chemistry and Biochemistry - Neckers C224 - 453-5721
Fermentation Science - Mcafferty Annex 453-7508
Geology - Parkinson 102 - 453-3351
Microbiology - Life Science II 131 - 536-2349
Physics - Neckers A483 - 453-2643
Physiology - Life Science II 245 - 453-1544
Plant Biology - Life Science II 420 - 536-2331
Zoology - Life Science II 351 - 536-2314
Health Professions Advisement
Advisement for Health Professions is by appointment only. Please contact our Health Professions Information Office at 618-536-2147 to schedule an appointment. 
Advisement and Grades
If you remain on good standing (2.0 or better on a 4.0 scale) you are not required to meet with a College of Science advisor each semester. It is strongly recommended, however, that you work out a long-range plan with an advisor and then meet at least once a year to double-check progress. If your overall SIU grade point drops below a 2.0 you will be placed on academic probation. In this case, you are strongly encouraged to meet with a College of Science advisor to register. The advisor will help you plan a schedule of classes which will increase your chances of academic success. University policy allows you to take no more than 14 credit hours any semester you are on probation. Seven hours are the maximum during the summer term. Graduating Seniors MUST meet with a College of Science advisor the SEMESTER BEFORE their intended graduation to complete a GRADUATION CHECK.