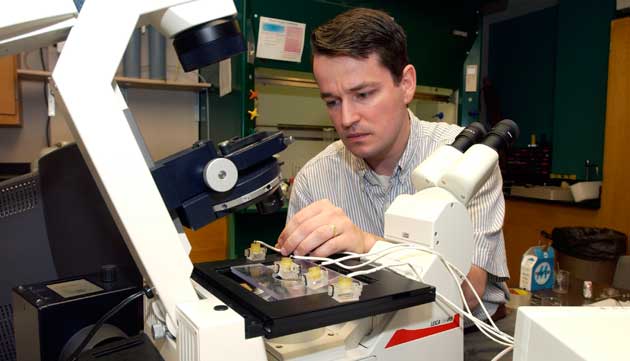 Research
The bedrock of science is research, and SIU Carbondale's College of Agricultural, Life, and Physical Sciences is a bona fide leader in breaking new ground.
Classified by The Carnegie Foundation for the Advancement of Teaching as "Research University: High Research Activity," SIU ranks among the top 4 percent of all U.S. higher education institutions for research.  That's some elite company.
Featured Research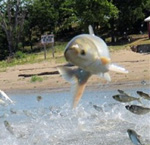 Research murky on danger of Asian carp invasion: Jim Garvey, a reserach biologist in our Zoology program is working as part of a team looking into the march of Asian Carp into our waterways. "As scientists aboard a research boat activate an electric current, the calm Illinois River transforms into a roiling, silvery mass. Asian carp by the dozen hurtle from the water..." Read more about Dr. Garvey's research in this Associated Press article.
Get Involved
As an undergraduate student, you will have the immediate opportunity to be part of this legacy of scientific discovery.  Undergraduate students can work directly with researchers or apply for their own research grants through the Office of Sponsored Projects Administration. It's just another way the University removes all obstacles for those who are motivated to learn.  Check out the REACH program, McNair Scholars and Saluki Research Rookies Program. 
High Schoolers in Research?
Project SEED is a program administered by the American Chemical Society (ACS) that offers a unique opportunity for local high school students to spend a summer conducting hands-on research with a scientist in a laboratory setting.