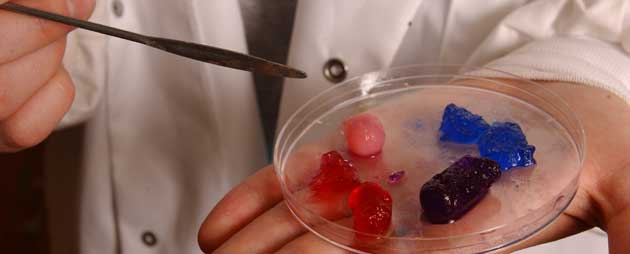 Bachelor's Degrees
We offer both traditional agriculture degree programs and non-traditional ones. Take your pick and join our community of scholars.

This major includes specializations that prepare students for careers in Biology Education (secondary school teaching), Biomedical Science (including pre-health professions), and Ecology (interdisciplinary community and ecosystem studies). 

Chemistry and Biochemistry offer two degree options at the undergraduate level. If you intend to be a professional chemist or go on to graduate school you should choose a bachelor of science degree. With this degree you can receive American Chemical Society Certification.  The bachelors of arts degree is designed primarily for students who wish to complete a major in chemistry but will specialize in areas related to it. Students complete a group of core courses, along with additional courses that will lead to a specialization in biochemistry, business, environmental, or forensic chemistry.

The Fermentation Science program will initiate you into modern visages of this ancient practice, preparing you for a career in fields ranging from production and quality control for alcoholic beverages to fermented foods such as cheese, sauerkraut and bread.

Accredited by the Society of American Foresters, our program offers hands-on, experiential learning in natural environments. We have a science-based curriculum with focused training and teaching both in the outdoors and the classroom.

Students in Geography and Environmental Resources study the dynamic relationship between nature and society with an emphasis on principles of physical and social science including human use of natural resources.

For those that want to study what's shaped the world and have big aspirations for the planet, the Geology program offers a Bachelor of Science with a curriculum designed for those who intend to pursue careers as geologists or who plan to go on to study geology in graduate, or a Bachelor of Arts degree that's more flexible and lets you shape the world with your other areas of interest, such as law, engineering, biology, business, or teaching.

Our horticulture program is perfect for the college student with a green thumb wanting to merge the studies of science and aesthetics. Students work with world-class faculty on about 2,000 acres of farmland, along with labs and greenhouses—which really stand out since SIU has the only four-year program in the entire state of Illinois.

The Bachelor of Science degree in Microbiology, the ONLY program in Illinois, prepares students for careers in the medical, academic, industrial, pharmaceutical, and governmental sectors. With a low student-to-faculty ratio, microbiology majors at SIUC benefit from personal attention from faculty who are actively engaged in research and who bring the excitement of their work directly into the classroom. The Bachelor's degree also provides excellent preparation for graduate or professional degree programs.

If you're a student just starting out with an interest in Physics, we encourage you to get your feet wet in the field by trying a class and looking at our four undergraduate degree specializations in  General Physics, Material Science / Nanophysics, Computational Physics, and Biomedical Physics.  BS degrees in physics provide excellent opportunities for high-paying jobs with very low unemployment rates.  (See American Institute of Physics research.) 

Physiology seeks to understand biological function spanning the range from molecular mechanisms to medical problems. The discipline of physiology is uniquely positioned among the biomedical sciences to span the gulf between exploring the most fundamental aspects of biology and the most practical and applied problems of human and animal health.

The undergraduate program in Plant Biology offers a flexible curriculum with two degree options (Bachelor of Arts or Bachelor of Science) and the opportunity to specialize either degree in Ecology, Cellular and Molecular Physiology, or Systematics and Conservation Biology.  Undergraduate students can become involved in a variety of research and/or work experiences to add practical training to their undergraduate education. 

The Zoology program offers Bachelor of Arts and Bachelor of Science degrees for students pursuing careers involving wild animals.  The B.A. degree is for students with zoology-related interests in non-science careers such as environmental policy, law,  law enforcement, photography, zoo keeping, journalism, etc.  The B.S. degree is for students wishing to specialize in animal biology (preparation for graduate study in traditional zoology disciplines), environmental biology, fisheries biology, pre-veterinary science, and wildlife biology.