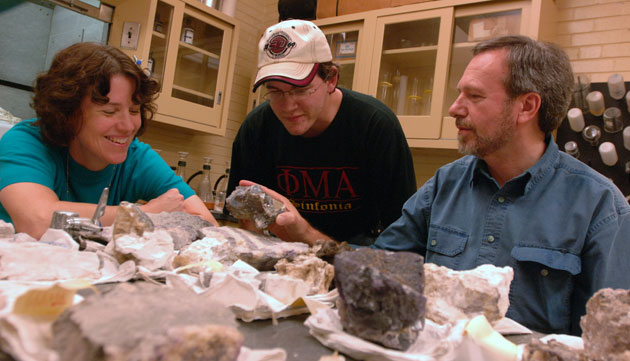 Geology
For those who want to study the Earth's natural environment, or the dynamic processes that create natural resources or shape our world, our Geology program offers a Bachelor of Science with a curriculum designed for students intending to pursue careers as geologists or planning to go on to study geology in graduate school.  We also offer a more flexible Bachelor of Arts degree that lets you blend your interest in geology with other study areas, such as law, engineering, biology, business, or teaching.
Southern Illinois and adjacent areas offer a wide variety of geological conditions ideal for individual study and research.  Opportunities also exist for student research all over the world.  Our graduate degree programs develop the student's competence in the basic fields of geology and provide for specialization dependent on student and faculty interest. 
We have two doctoral programs: Geosciences and Environmental Resources & Policy.  Geosciences' primary goal is to develop a student capable of successfully conducting original research and the presentation of an acceptable dissertation describing the results, analysis, and implications of that research.  Environmental Resources and Policy provides advanced inter-disciplinary training and research on physical, biological, and social processes responsible for natural resource and environmental problems facing contemporary society.